2.
Southern Cameroons National Council (SCNC):
Created in 1995 from the embers of federalist All Anglophone Conference (AAC). Was main advocate of Southern Cameroon independence until 2016 when new Anglophone groups emerged. Its motto is
"The force of argument, not the argument of force."
The "Ambazonian" flag that became popular among pro-independence groups after events of 8 December 2016 in Bamenda is an adaptation of the original 13-stripe flag adopted by an SCNC-sponsored Constituent Assembly in 2000.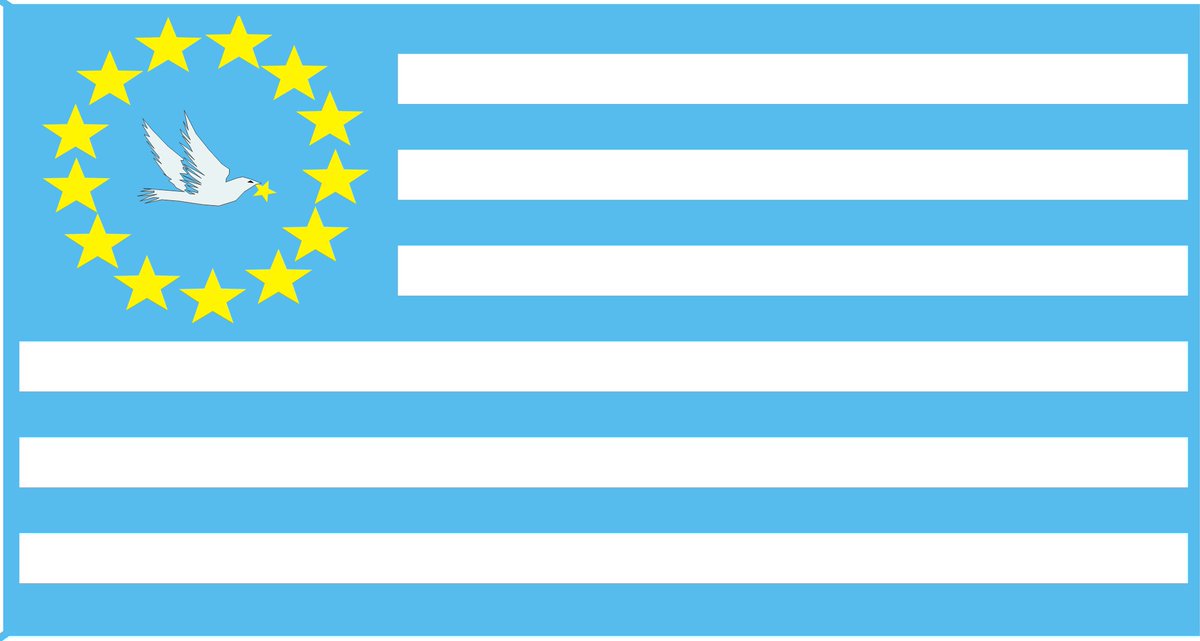 Southern Cameroons People's Organization (SCAPO)
:
Created in 2001 to pursue legal case for independence of Southern Cameroons. Filed suit vs. Nigeria in Abuja in 2002 & vs. Cameroon in 2003 at African Com on Human & Peoples Rights which recognized Southern Cameroonians as a "people" in 2009.
SCAPO
adopted the motto "Live Free or Die Once" to distinguish itself from SCNC & referred to an independent Southern Cameroons as "AmbazAnia" to distinguish it from Fon Gorgi Dinka's "AmbazOnia."
4.
Southern Cameroons Youth League (SCYL)
:
Founded in 1995 by Anglophone youths led by Ebenezer Akwanga & Cho Ayaba both of whom had been expelled from University of Buea for political activism. They were fed up with the SCNC's reluctance to implement the road map to Southern Cameroons independence.
Ebenezer Akwanga and Cho Ayaba
See Newspaper reports below:
5.
Consortium:
An umbrella organization created in 2016 grouping four lawyers' associations and several teachers' unions advocating an end to Anglophone marginalization in Cameroon and a return to federal system. Led by Barrister Felix Nkongho & Neba Fontem arrested in January 2017 and later released.
Consortium leaders
The Consortium abandoned its federalist stance when a more radical leadership emerged following arrest and exile of founding leaders. New leadership subsequently expelled the federalist; Felix Nkongho for opposing the "Restoration agenda" of the people of Southern Cameroon.
6 .
Ambazonia Governing Council (AGC).
Created around 2011 by ex members of SCNC & SCYL. Led by Cho Ayaba, it's armed wing is the ADF (
Ambazonia Defense Force
), aka Nchang Shoe Boys, who've claimed responsibility for recent attacks on Cameroon military forces, for example the incident that took place in Jakiri in November 2017.
It was the ADF which established a foothold(Ambazonia army training camp) in the village of Dadi in Manyu division which was later overrun by Cameroon forces in December 2017 and which the former tried to recapture on January 2018. The AGC leader; Ayaba has promised
"difficult times ahead"
for
"occupation forces"
. See photos showing Cho Ayaba and the ADF.
7 .
Movement for the Restoration of the Independence of Southern Cameroons (Morisc):
Created in the USA in 2016 to
"Enthrone a Government in Southern Cameroons that is based on popular consent, deriving authority and legitimacy from the people."
led by Boh Herbert.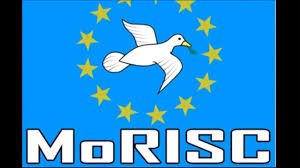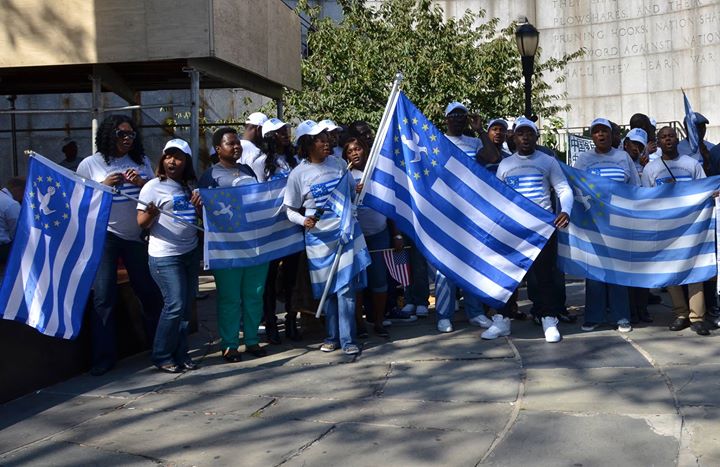 MoRisc
8-
Southern Cameroons Ambazonia United Front (SCACUF):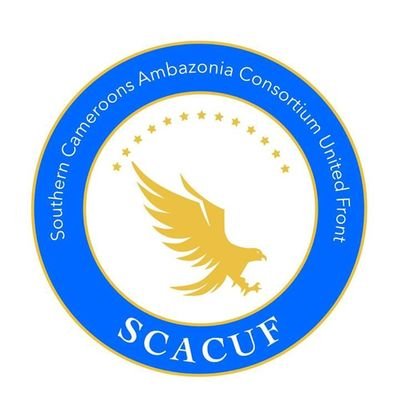 Launched in Feb 2017 in Nigeria during a conclave of major Southern Cameroons groups. Key members included:
Republic of Ambazonia (RoA)
SCNC
SCAPO
SCYL
AGC
Consortium
Morisc.
SCACUF is not « la branche armée du Scnc »! It was created to obtain international recognition for Southern Cameroons through diplomatic/legal means. It retained US law firm, Foley Hoag LLP, to lead a legal campaign and used civil disobedience (school boycott and Ghost Towns) to pressure Cameroon government.
SCACUF spearheaded the worldwide "Takumbeng" demonstrations of Sept. 22, 2017 and the Oct 1, 2017 independence marches in Cameroon which were brutally quelled by Cameroun forces and marked the beginning of the radicalization of the hitherto generally nonviolent campaign. See photo::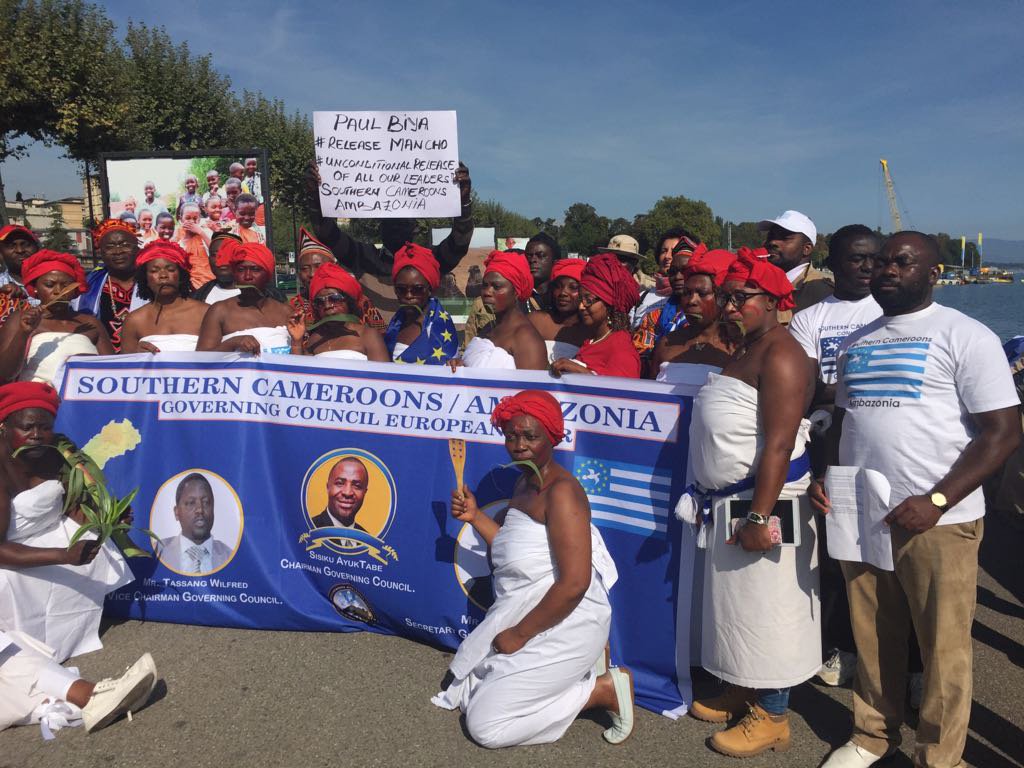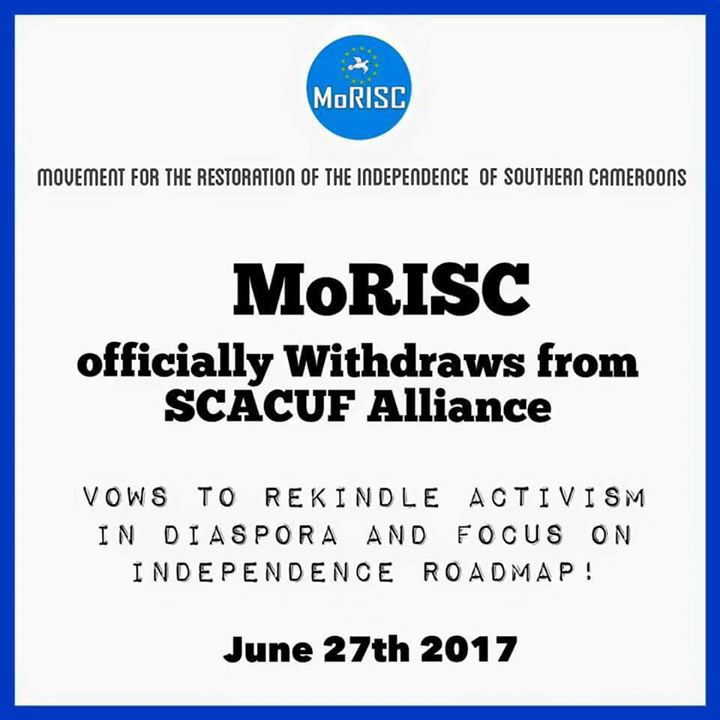 9-
Interim Government, Federal Republic of Ambazonia
:
On Oct 31, 2017, what was left of SCACUF was dissolved and transformed into an Interim Government with
Sisiku Ayuk Tabe
as President. He unveiled his cabinet one month later, after failing to revive the United Front and create a coalition government.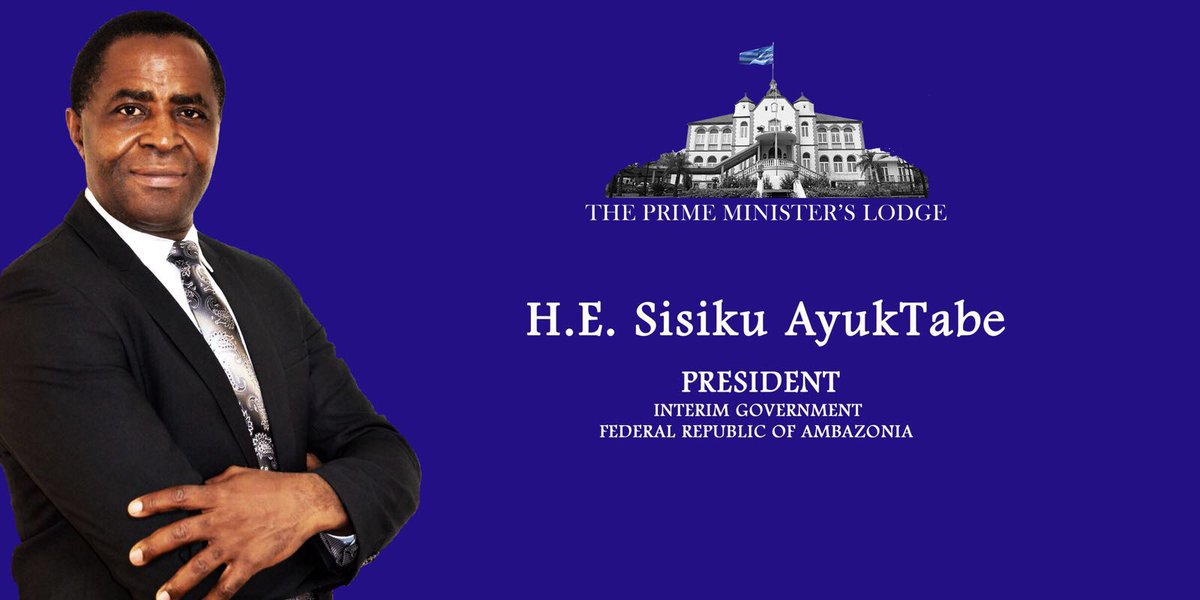 After attacks against Cameroun forces in Jakiri and Bamenda in Nov 2017, "Interim Government" issued a statement on Nov 9 reaffirming its
"commitment to the principle of nonviolence and to continue its diplomatic and legal effort"
to achieve independence.
In a Nov. 9, 2017 tweet,
Sisiku Ayuk Tabe
"condem[s] the killings of Soldiers and Civilians in Jakiri and Bamenda in the past days.
"Our revolution has been non-violent"
he said. While some praise him for his insistence on nonviolence others angrily accuse him of "betrayal".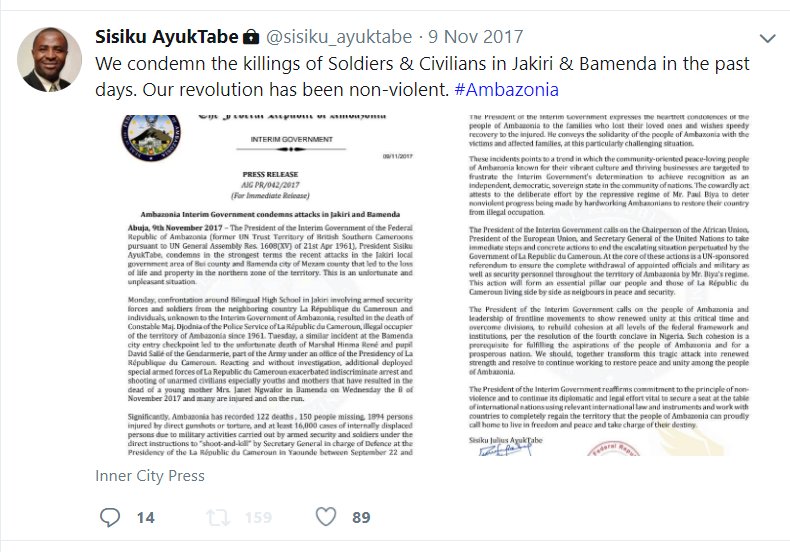 The Interim Government's position on (non)violence stays the same until leadership arrest in Abuja in Jan 9, 2018 even though Sisiku Ayuk cautioned in a Dec 4 interview that while it was premature to turn to violence, "all options are now available for us to use in our restoration quest".
Will arrest of Ambazonia Interim Government leadership end insurgency? Unlikely because armed groups on ground apart from ADF & SOCADEF, are autonomous local cells reacting to local events with little or no connection or coordination among them and operating on a quasi-franchise model.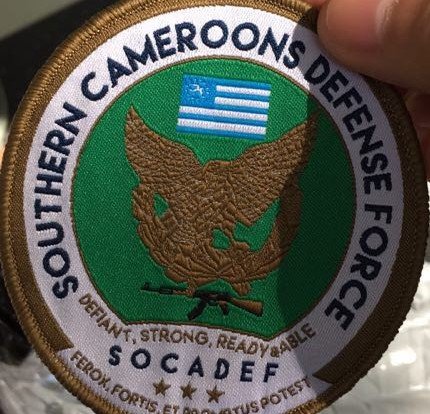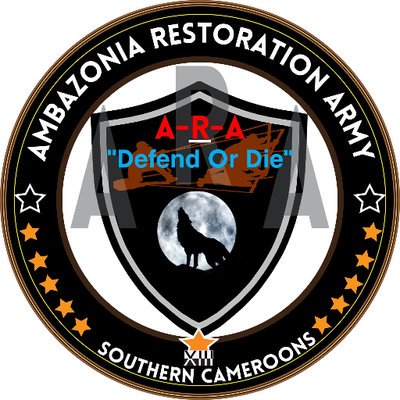 The arrest of the Interim Government leadership is a largely symbolic and even Pyrrhic victory for Cameroon government because Interim Government did not initiate armed insurrection but was simply put before a fait accompli by autonomous "Restoration Forces" not beholden to any movement or national "leader".